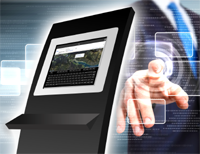 On this page we will give you an overview of various hardware solutions in relation to touch kiosks and interactive kiosk terminals, focusing predominantly on those users who would like to implement a professional kiosk solution themselves and need an overview on the different options and alternatives when it comes to hardware. In addition to using the right software (FrontFace for Touch Kiosks), it is also crucial to choose suitable PC components and cases as well as the right method of installation and mounting. What components are best for you depends on your individual requirements, your budget and the situation on site (e.g. whether the terminal is open to the public, whether it is intended for outdoor or indoor use, and if special measures need to be taken to protect it from vandalism).
We would like to give you an overview to help you find the right solution for your kiosk employment and to show you specific sources for the items mentioned.
Tip:
There are professional service providers offering complete solutions including installation. A selection of partners whom we collaborate with, and who already have successfully implemented several projects with our
FrontFace
software, can be found in our
partners section
.
What is a kiosk PC?
From a technical point of view, a kiosk PC is an entirely regular PC (like a desktop computer or laptop). Since this PC is usually intended for public use and should only make certain functions and content available to users, both the software and the hardware must correspond to specific requirements. A kiosk PC should offer protection from unauthorized manipulation and a very low attack vector. This can be achieved by protecting critical components such as the case, the keyboard, switches and interfaces from external access by means of a lockable case, for example. Protection of the operating system and the PC is achieved by means of the kiosk software, e.g. FrontFace for Touch Kiosks, offering extensive protection of the kiosk PC due to its integrated FrontFace Lockdown Tool.
In most cases, interaction between the user and the kiosk PC will take place via a touch screen, but regular use with a mouse or trackpad and keyboard are also possible.
If your kiosk will be used with a touch screen, the screen should be chosen with the protection of the device in mind; special surfaces can protect the screen from being scratched and smashed. The level of protection ranges from that of a regular PC without special protective measures to a fully armored terminal (e.g. for use as ATM).
What hardware options are there for touch kiosk terminals?
All-in-one PCs with touch screen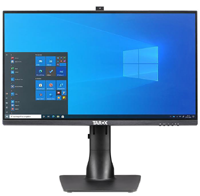 So-called all in one PCs (AIO) with touch screen offer a professional solution at a reasonable price. These are special PCs combining the touch screen as well as other hardware (CPU, mainboard, harddrive etc.) in one case. This makes them very compact and avoids loose cables between monitor and PC. All in once PCs can be moved to any accessible location by means of bases running on wheels or fixed stands, or they can be mounted with a wall bracket.
As this is standard hardware with little protection, use is advisable in a controlled and/or supervised environment only.
PCs with touch screen monitor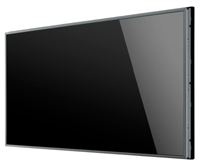 The easiest solution to implement a simple touch kiosk terminal yourself is to use a conventional Windows PC with a touch screen monitor.
Whether an off-the-shelf touch screen can be used or whether a professional device is more suitable mainly depends on how much you would like to spend and whether the display will be in permanent use (usually more than 8 hours / day). Almost all flat screens have holes at the back for wall mounting, for which the so-called VESA is an established standard. Numerous providers offer wall brackets to be screwed into the wall, to which the screens attach via their VESA fixtures.
A further option would be a so-called "touch overlay", a frame with a glass pane that will be placed over the actual screen, thus creating a protected touch screen. This is particularly suitable for big touch screens (e.g. an interactive, digital notice board).
Windows tablets
A Windows-operated tablet can be used instead of a touch screen PC or all in one PC. Some manufacturers offer so-called "ruggedized" tablets that are particularly sturdy and can be used as kiosks when fitted into a suitable frame or chassis.
Professional terminals, steles and custom builds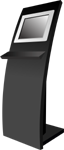 Besides the solutions mentioned above that are based on standard hardware components, there are also several providers building special steles and cases for kiosk terminals in professional use. Those can be suitable for outdoor use (e.g. with air conditioning) or specifically protected against vandalism, thus offering a very professional and individual solution. A selection of partners offering individual kiosk systems who already have successfully implemented FrontFace software-based projects can be found in our partners section.
How is the kiosk PC be connected to the network?
The kiosk PC is usually incorporated into the local network to allow updating from another PC or to allow access to the internet with the kiosk PC (e.g. to display websites and current data). Besides the conventional connection via a network cable (Ethernet), you can of course also use a WLAN module to connect the PC to a wireless network. In some cases, PowerLAN can be used as a third option of connecting in which network communication takes place via the power grid (wall socket).
If you do not have the option to integrate your kiosk PC into a network, you can also update your PC using FrontFace on a USB flash drive. When using this option, please make sure that the PC's USB port is easily accessible to insert the drive with new data while the PC is running. A USB extension cable is often helpful to "relocate" the USB port to a place that is conveniently accessible.
Can the kiosk PC also be updated via the internet?
Yes, in addition to updating the kiosk PC in your local network (LAN/WLAN) or offline using a USB flash drive, it can also be updated via the internet using the FrontFace software. To use this option, either connect your PC and the kiosk PC in a virtual private network (VPN) or use a cloud storage service such as Dropbox or OneDrive as "intermediary" to distribute data into the cloud from your PC to be replicated on the kiosk PC - which could be on the other side of the globe! The only requirement is that your kiosk PC can be connected to the internet.
You have further questions? Let us know!
With FrontFace for Touch Kiosks mirabyte offers software solutions only, yet we would be happy to help you with any hardware-related questions and to share our experience with you. Simply contact us! In addition to that, you can contact our hardware solution partners who will also be delighted to assist you. They will also be able to offer you suitable hardware directly. FrontFace offers a powerful software that is yet easy to install and easy to use, and that enables you to implement nearly all touch kiosk applications - hassle-free!
Back to Top ▲