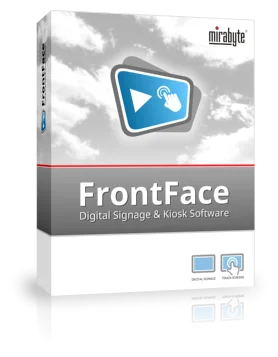 Digital Signage is not just a perfect choice for digital advertising in shop windows, malls and retail in general — it also has a lot to offer for businesses and companies in regards to digitalization and in the context of Industry 4.0: The Dashboard Plugin for FrontFace lets you integrate professional Dashboards in an appealing way into your digital signage screens by displaying live data, business measurements, KPIs and performance information from any kind of data source such as BI systems, databases, backend systems or sensors. Use both, traditional digital signage screens and interactive touch screen terminals to visualize your data in near real-time.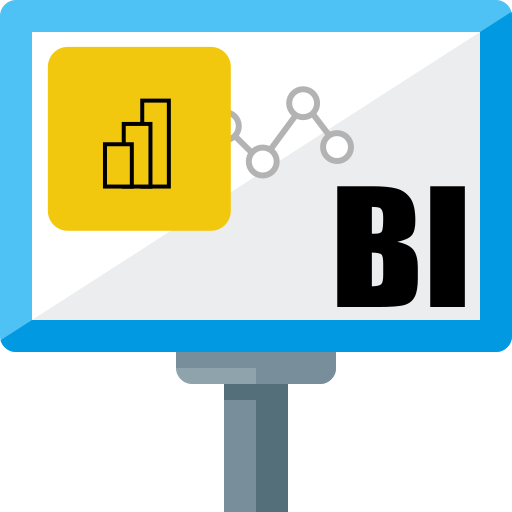 NEW:

Microsoft Power BI Plugin

Would you like to display Power BI reports or dashboards directly on your digital signage screens or on interactive touch terminals? It's easy with the new Power BI plugin for FrontFace!
Use Cases and Popular Applications:
Visualization of Business Figures and BI Data
Whether you want to motivate your employees or you need a powerful tool to support management: By visualizing business data, figures and BI data such as KPIs (key performance indicators) on digital information screens you create a quick and convenient way to distribute relevant information within the company. Instead of digging into reporting tools or having to navigate Intranet pages, a simple glance at a wall-mounted screen is all you need to get the latest information and status updates at a glance!
Displaying Live Production Data (Shopfloor Boards)
Especially at production plants, a live overview of the produced units and goals achieved, and the entire production process is extremely helpful and often mission critical. By placing the screens or terminals directly at the production site (so called Shop Floor Boards), employees can be informed at any time while they are doing their work aligned to production processes and planning. In addition to that, a system like this can also be used as a full-fledged employee information system. The FrontFace software already comes with everything you need for such an extended scenario.
Performance and Status Information of Facilities
Solar energy panels, environment-friendly heating systems or other environment-related systems provide a lot of data that you can access from their controller units in order to communicate the environmental awareness of your company to employees and to customers visiting your site. FrontFace helps you to visualize this data in an interesting and eye-catching manor.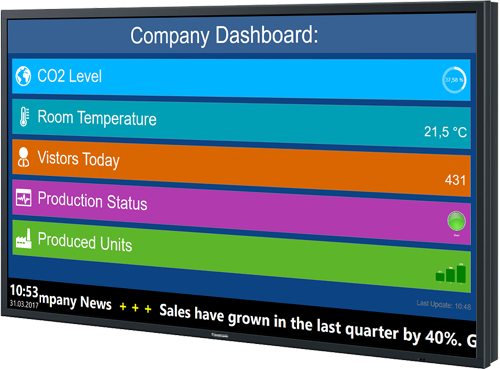 Percentage of Capacity Utilization for Call Centers
How many customers are in the waiting queue at the moment? How long is the estimated waiting time? How many agents are available? All this data is available through your call routing or ticketing system. By visualizing this data on a digital screen using a dashboard, you and your employees only need a quick glance to understand the status of your business right at that moment.
Tip:
The digital signage & kiosk software
FrontFace
allows you to do even more than just dashboards: If you want, you can create a full-fledged information platform using FrontFace for keeping your employees, workers or visitors up to date by integrating content such as company videos, slideshows, Web pages and the latest news on large screens and terminals.
Even though the feature set of FrontFace is huge, it is still very easy to install and to use, even for less IT-experienced persons.
Turn any Large Display with a Normal PC into a
Professional Dashboard

: Simple Data Integration with XML Interface

A dashboard can only be implemented if the required data and information is available and can be properly accessed. Due to the large number of systems, data types, interfaces and standards, a simple but yet highly flexible interface for accessing the data is a key part of every dashboard system. The FrontFace Dashboard Plugin uses a simple XML file to get the data from your systems. This means that you can integrate virtually any system that either directly or indirectly supports outputting/exporting XML. This file can reside on a file server or a Web server from which it is polled (via HTTP(S)) by the FrontFace Dashboard Plugin at a configurable interval.
Appealing and Flexible Visualizations
The Dashboard Plugin comes with a large set of options to create great-looking visualizations for your data. First, select whether you want a tile or a table based layout. As an alternative, there is also a "freestyle" layout which allows you to place the dashboard widgets anywhere on the screen (e.g. inside existing diagram artwork or graphics that visualize production processes). For every measurement value that your data source provides, you can choose a so-called view (widget) to visualize the data, e.g. a formatted text-based representation of your measurement (like a temperature in F° or a money value in $) or a diagram like a bar chart, a pie chart or a line chart. Further views include a percentage gauge, traffic lights or a binary "on/off" switch-like visualization.
The Dashboard Plugin
You can download the Dashboard Plugin as a free trial version in order to extend the functionality of FrontFace in regards to dashboards. The plugin pulls the data from an XML file which may reside on a file server in the local network or on a Web server and visualizes the data in an appealing way in near real-time. You can customize the visual appearance on the screen to fully match with your individual design requirements and your corporate identity without requiring programming skills. The XML data file is generated directly by your backend system or database and can be updated at an interval of your choice.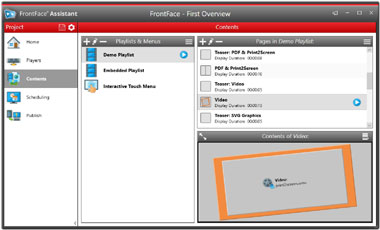 Super-Easy Setup and Usage
There are no requirements in regard to your infrastructure when running FrontFace (e.g. no server is needed!) and also there are no adjustments to your infrastructure required (e.g. custom firewall rules). Setup and design of your dashboard is done using the FrontFace Assistant application of FrontFace that you can install on any Windows-based PC. The software allows you to configure what, where and when to display information on your large screen(s). You can use time-based scheduling or use an ad-hoc mode to instantly display your content on the screens! The FrontFace Assistant is so easy to use that even less experienced users can handle it without problems. This ensures that your screens always show the latest information!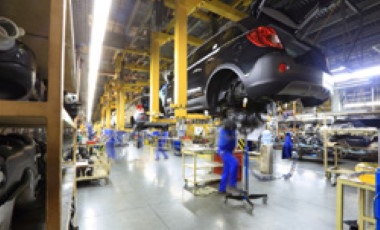 Dashboards in Production Sites
Especially in production plants and facilities, dashboards represent a high value since they provide access to information directly at the point where it is needed. For rough, dirty or dusty environments there are special types of ruggedized screens and screen cases that allow use of sensitive hardware in these special environments. If you need more information about this special type of hardware, please feel free to contact our hardware partners who are eager to help you with their expertise!
It's easy! Give it a try today! - Here is how to get started:
For any questions related to our products (also regarding sales and pricing), please contact our support representatives who are ready to help you.
Just contact us or send us an e-mail!