Digital welcome board displays are a modern and professional way to provide a friendly welcome to visitors or customers entering your company building, office, lobby, hotel, museum, visitor or convention center. A welcome screen allows you to display personalized welcome messages or visitor greeting as well as general information, company presentations and up-to-date news on normal a flat TV screen. It can also help visitors to navigate within a building. This makes a reception screen more than just a cool gadget – a welcome system is a modern communication tool with a broad range of useful applications!
mirabyte offers FrontFace, a professional and powerful digital signage software that is the perfect choice for these types of applications! The software helps you to easily set up your own, professional-looking welcome board at very low cost and very little effort. It provides individual customization of the look & feel consistent with your corporate identity, your logo, colors and style. You can put a personalized ad hoc welcome message with the name of the visitor like "Welcome to our office, Mr. Miller!" on the screen with a single click or display a corporate slideshow when there is no particular person to welcome. Scheduled welcome messages can also be configured, either by using the built-in calendar or by integrating external systems such as Microsoft Exchange, SharePoint or Lotus Notes!
An information screen for welcoming visitors or customers can be used in many ways and helps to create a professional first impression in foyers and reception areas.
Keep it simple: Compatible with standard PC hardware!
You can install FrontFace on any normal Windows PC (running Windows 10 or 11), e.g. a mini PC, and many Android devices and use it with any flat screen, TV screen or TFT / plasma monitor. So there is no need for proprietary and expensive hardware. The setup requires no server and no modification of the configuration of your firewall. Installing FrontFace can be done in less than 15 minutes!
The
Best Software

for easy and professional Welcome Boards & Reception Screens:
Fully Customizable Design
Eye-catching transition effects help you to create truly impressive slide shows, while common design elements such as a color-matched news ticker bar or your logo shown as an "overlay" (as seen on many TV stations) can be configured easily. This allows you to implement a welcome board that fully matches your company's corporate identity and helps to strengthen the recognition value of your brand. Thanks to the unique Print2Screen feature you can instantly reuse any existing assets, such as PowerPoint templates, in your playlists without having to make any further modifications to them. That saves you time and money!
Display Media of any Format
FrontFace can display any kind of media format, no matter whether you want to display text, pictures, photos, PDFs, videos, news tickers, live TV, Flash or Silverlight or even entire Web pages (HTML). A free weather widget for displaying the current weather conditions plus a 3-day forecast is also included. But the best news is that you can use any Windows application that is capable of printing for producing high quality HD content for your display. Use PowerPoint, Word, Excel, etc. to create content for your playlists. Stick to the tools you are using without having to invest in learning how to use a new, complex design application!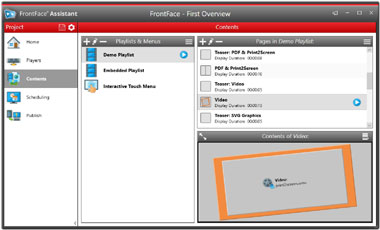 Convenient Content Management
Controlling display content is super-easy with FrontFace. The software comes with an application called FrontFace Assistant which you can install on any Windows PC. It allows you to compose and control content and playlists for your display(s). You can use schedules for running time-controlled playlists or display ad hoc content by just hitting a button! Working with the intuitive FrontFace Assistant is so easy that even untrained users can work with it hassle-free. Screens can be updated instantly while the software is running by using a local network connection, the Internet or a USB flash drive (for offline updates).
Controlling your Welcome Messages manually On Demand or by a Calendar:
The welcome messages can be controlled either manually ("on demand") or by using a calendar. This allows you to preconfigure automatic welcome messages. Personalization ("Welcome, John Doe!") is of course supported by FrontFace as well as using placeholders! If you want to use a calendar for scheduling your welcome messages, you can either use the built-in calendar app that comes with FrontFace (free) or integrate an external calendar using an optional plugin that is available separately. You can integrate Microsoft Exchange servers, SharePoint servers, Lotus Domino servers, iCalendar/ICS or Excel spreadsheets. Maintaining your appointments can then be done conveniently using either Outlook, Lotus Notes, Google Calendar or Excel!
Need more? FrontFace can adapt to your individual requirements!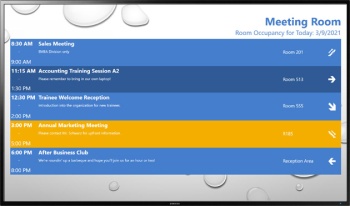 FrontFace is a universal digital signage software that can easily be enhanced and extended. In addition to using the software for information screens and digital welcome signs, you can also display calendar data and appointments on the screen. FrontFace can help whether you require room occupancy plans, or schedules for events, or if you are looking for a flexible orientation system to help your visitors find their destination. And FrontFace can be extended with plugins which let the software cover additional, specialized requirements. With plugins, you can even add unique custom functionality to the software where other solutions would require expensive customization or even fail to fulfill your requirements at all.