Easily integrate your content from any Windows applications that supports printing!
Content is the major aspect of any digital signage or kiosk application. Instead of struggling with error-prone import modules for various content and file formats or manually rebuilding your existing content for a specific application or platform you can use the unique Print2Screen feature of FrontFace for integrating your content: Print2Screen is a virtual printer driver that is automatically installed together with FrontFace. It allows you to directly import content from any Windows application that supports printing (e.g. Word, PowerPoint, Excel and even highly specialized applications that may be not so common) into your digital signage playlists or kiosk terminal front-ends.

Print2Screen always guarantees a perfect, HD-optimized display quality (thanks to its intelligent vector-based technology) with any screen resolution, no matter whether you are printing time tables, business figures or carefully designed presentations with photos and graphic elements in it. Also documents with multiple pages are fully supported.
Super-Easy to Use:


If you know how to print your documents and content, you already know how to use Print2Screen!

Maximum Reusability:


Directly reuse existing templates, files, documents and content without having to modify them!

Perfect HD Quality:


Since Print2Screen is vector-based, the output looks great with any screen resolution or aspect radio!

Data Integration made Simple:


Content from any application that supports printing can be imported directly – this also covers many custom software applications!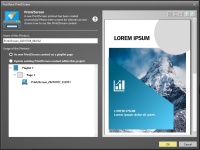 Updating Print2Screen content is also very simple: Once you produce a print-out using Print2Screen the FrontFace application asks you whether you want to replace an existing Print2Screen content within your project or if you want to add the print-out as new content. With Print2Screen you can move paper-based Workflow into the digital age without changing anything. Instead of printing a document and pinning it to a blackboard, you simply "print" onto a digital display. That saves time, paper and printing costs!