The intuitive kiosk software FrontFace helps you to improve the information flow within your company and provides a modern, interactive touch-screen terminal to your employees. Easily create professional interactive information and self-service kiosk terminals using normal PC hardware and make update-to-date company news and valuable information accessible to your employees!
Dust off your old Blackboard, Bulletin Board or Whiteboard and Replace it with a Digital Corporate Communications and Intra-Company Information Distribution Solution!
The necessary supply of data and information for your employees is a demanding task! Optimize the information flows in your teams by setting up a modern, state-of-the-art touch-screen information terminal (kiosk) for your employees. Improve internal corporate communications, enable self-service processes (application for leave, etc.) to relieve your HR department and provide a workers in staff rooms to access the Internet, recent news headlines, weather or traffic information – even for those employees that do not have access to a PC (like in production, manufacturing or workshops).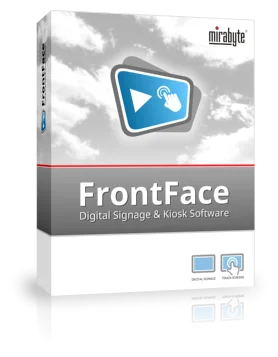 The software is installed on a normal Windows PC (Windows 10 or 11). You will get the best user experience if the PC has a touch-screen. After the application starts, the underlying operating system is automatically protected against abuse and unauthorized access. Instead of the normal Windows desktop, a visually attractive hierarchical touch menu is presented to the user which can be easily navigated.
Customizable buttons then provide access to any custom functionality or content (e.g. staff rosters, company homepage, Intranet or sales figures, etc.).
The contents as well as the menu itself can be easily updated or enhanced from a remote PC (e.g. from your office) with the included FrontFace Assistant application. Alternatively you can use a USB flash drive to update the terminal with the latest content. Online updates over the Internet/cloud are supported as well, which makes things extremely easy when you operate your terminals at different physical locations.
(Please click on the screenshots for a larger view!)
Applications and Use Cases

in the Corporate Context:
Up-to-Date News


Provide the latest company news to your employees!

Staff Rosters and Attendance Records


Allow your workers to access staff rosters and to keep track of attendance records.

Employee Self Services/ESS


You can use PDF forms or even entire processes (Intranet) to integrate with the human resources (HR) department.

Statistics and BI Figures


Provide up-to-date sales figures and other relevant statistical data and metrics to your workers.

Surf Terminal (Internet)


Allow employees to (optionally) access the Internet (World Wide Web). Limiting to certain pages is also supported!

Weather and Traffic Information


Give access to news headlines, weather forecasts, traffic data and public transportation schedules.
Printing and Sharing


Employees can optional print content from the terminal or send content by e-mail to their smart phones.

Digital Human Resources (HR) Department


Relief departments by offering employees to inform themselves and to kick-off processes directly.

Trainings and Offers for Continuing Education


Inform employees about education offerings, trainings and seminars.

Integration of Homepage and Intranet


It is possible to integrate any kind of Web page in your touch screen front-end. Common technologies like HTML5 or JavaScript are fully supported.

Corporate Identity


Customize the look and feel of your touch screen interface according to your corporate identity and integrate your logo with a single click!
The
perfect software

for Touch-Screen Solutions for Corporate Information Systems and Employee Self Services: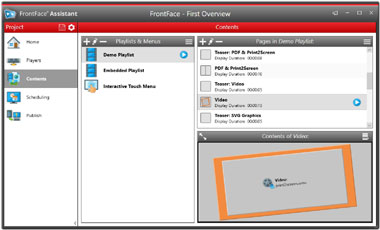 This software is all you need!
Do you want to integrate your Website into the menu front-end? Do you need multi-language support? Do you want to allow the user to print certain content or to e-mail it to their smart phones? You want to integrate photos as a slide show with only one click? You would like to create your own, custom design theme that includes your logo and matches with your corporate identity?
If these capabilities are important for you, then FrontFace is the right software. The easy-to-use Kiosk Assistant application which comes with FrontFace allows you to customize and configure your own individual touch screen terminal within minutes – no programming skills needed!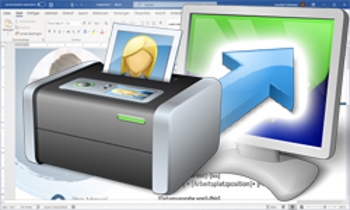 Print2Screen: It is so easy!
The critical success factor of your kiosk terminal is the content that you provide to your users. Thanks to the unique Print2Screen Feature of FrontFace it has never been easier to create high quality content! You can use ANY Windows application which supports printing to create content for your touch screen terminal. No matter whether you use Word, Excel, PowerPoint or any other application to design your content – simply import anything directly by printing it on the FrontFace Print2Screen virtual printer. This also applies for existing material like e.g. PDF flyers or special, vertical applications like roster management applications. With Print2Screen you save a lot of work and you can instantly deploy your content on your kiosk system!
All-in-One PCs with Touch-Screen!
All-in-One PCs with touch-screen are extremely well suited for use as kiosk terminals in the corporate context. They represent a very cost-effective hardware foundation that can be used with FrontFace. Simply install FrontFace on the PC; the software automatically takes care of protecting the underlying Windows operating system from unauthorized access or abuse. You can use a remote PC to easily update or enhance your content and menus without having to restart FrontFace!
It's easy! Give it a try today! - Here is how to get started:
For any questions related to our products (also regarding sales and pricing), please contact our support representatives who are ready to help you.
Just contact us or send us an e-mail!