What you can do with the
FrontFace

Software: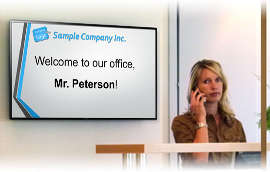 Welcome and Reception Boards
Welcome your visitors on your reception screen with a personalized welcome message! Either fully automatically scheduled, via an external calendar (such as Exchange Server) or manually triggered.
Digital Blackboards
Whether as an employee information system for companies or as a "digital bulletin board" for schools, educational institutions or public authorities - provide up-to-date information easily and conveniently in an appealing way!
Interactive Touchscreen Terminals
Whether as an employee information system for providing corporate news, as an information terminal for trade fairs or self-service kiosks: With FrontFace you create interactive information systems and integrate a wide range of media such as web pages, PDFs, external apps, etc.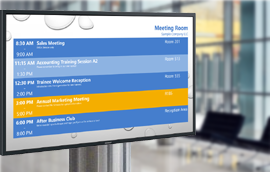 Displaying Calendar and Schedule Data
No matter if appointments at an event, room assignments or appointments of customers. If your data is stored in a calendar (for example, Exchange / Outlook, SharePoint, Lotus Notes, iCal or even Excel), you can bring them directly to your screens - always up-to-date!
Corporate Dashboards / Shopfloor Boards
Real-time figures, KPIs and data from your ERP and BI systems, or up-to-date status information from the production planning system, sensors, and other processes can be brought directly to your screens with FrontFace, providing targeted information to employees!
Digital Menu Boards and Shop Window Advertising
Always up-to-date and guaranteed, maximum attention of your customers: A digital menu for restaurants, bistros, snack bars or canteens offers many advantages compared to printed notices. The same applies to digital window advertising!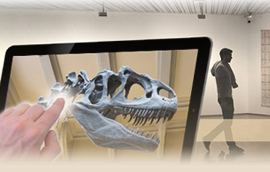 Kiosks for Museums and Exhibitions
Provide your visitors and guests with multimedia information about exhibits via an intuitive touch screen interface or design completely digital experiences for your exhibition without any programming knowledge!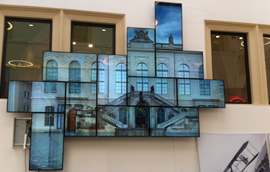 Multi-Screen and LED Matrix Video Walls
Would you like to play content on a video wall (whether made up of several screens or an LED matrix system)? Then you require a powerful and flexible software like FrontFace that helps you to easily implement your ideas - hasslefree!
Please click here for more details...
The advantages of
FrontFace

:
Super Easy to Use:


Take control of your screens with quick-start documentation and tutorial videos: Install in five minutes!

Maximum Reusability:


Simply reuse your existing hardware, software and content (e.g., PowerPoint, PDFs, CMS, Intranet, etc.)

Very Flexible:


Update your displays on the fly with the FrontFace Assistant via LAN/WiFi, Internet (using a cloud storage service) or offline using a USB flash drive!

Stay Independent:


Perpetual licence, no recurring costs, no extra server required, no subscription, no SaaS and no proprietary hardware required!

Stable and Robust:


FrontFace is a well-proven system that works flawlessly even in 24/7 operations mode!

Free choice of hardware:


With FrontFace it is completely up to you what hardware (players, displays, etc.) you choose! FrontFace runs on all Windows systems and most Android devices.

Extensibility:


Thanks to the plug-in interface, you can extend the range of functions as required, or even quickly add your own custom features!

One Solution for All:


Whether it's a non-interactive large screen or an interactive touch terminal, or a mix of the two, FrontFace makes it easy! FrontFace gives you the best of both worlds.
Let's get started right away!
Download the Free Trial Version:
With FrontFace, you can just start right away! Just download the free trial version and see how easy and fast FrontFace can make your digital signage or kiosk application. You do not need any prior knowledge or even programming skills!
Watch our Quick Start Video Tutorials:
Learn within a few minutes how FrontFace works, how to install the software and how to use it to create your own, custom solution!
Do you need help?
Apart from our detailed user manual and our FAQ you are welcome contact our support if you need any help or assistance!