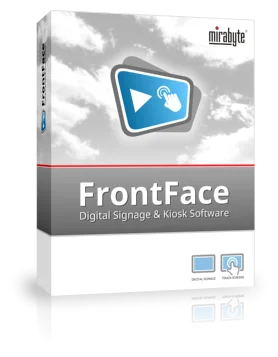 With the simple-to-use FrontFace software, you always have your products, catalogs, price lists and offers at hand in digital form. Win your customers over on the spot with an innovative, modern presentation on a tablet. Use this new kind of product presentation in your sales pitch and approach your customer in a flexible and individual way.
Put an end to the pile of paper and outdated, printed materials once and for all. Save costs with digital content instead of printed media. Simply install FrontFace on a Windows tablet or on your laptop and always have your current materials close at hand. Thanks to the presentation mode, you can provide your customer with a wide variety of information in just a few clicks, and you don't have to hunt for it in your computer's file system in a time-consuming in unprofessional way.
Use the digital and interactive product presentation on exhibition stands to achieve wider coverage. Approach the customer individually in your sales pitch and pull up only the relevant information. You can even print it out or send it directly to the customer by e-mail.
But FrontFace can also be used as a self-service solution right at the POS or from exhibition stands since FrontFace protects the operating system of the underlying PC from unauthorized access. The user can only navigate within the touchscreen menu defined by you and can only consume the multimedia content provided by you.
Usable everywhere:
You can use
FrontFace
on any computer with a Windows operating system (Windows 10/11) and operate it either with a projector or any flat-screen monitor - with or without touch functions.
The
Perfect Software

for Interactive Touchscreen Terminals and Digital Product Presentations: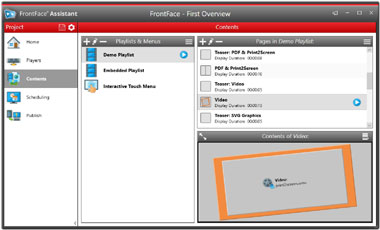 This is How FrontFace Works!
The software is simply installed on a regular Windows PC laptop or Windows tablet (Windows 10 or 11). Ideally, it should have a touch screen. After the application's quick start-up, the user sees a visually appealing, hierarchical menu through which the customer adviser or the customers themselves can navigate. Any content or function may be stored in the form of buttons (e.g. product catalogs, price lists, advertising fliers, offers, company websites or forms and much more). At the same time, by using the convenient FrontFace Assistant, the content may be conveniently updated at any time on the PC itself or from a different PC (e.g. in the office), and even while the system is running.
One Software for Everything!
Would you like to integrate your Website into your menu interface? Do you need multi-language support? Do you want to give users the ability to print out the content or send it to their smartphone by e-mail? Would you like to integrate images and videos in one click? Would you like to adapt your menu interface design to your corporate identity and integrate your logo yourself?
Then FrontFace is the right solution for you. By using the convenient FrontFace Assistant that comes with FrontFace, you can design and configure your touch interface exactly like you want it, and without any programming knowledge at all!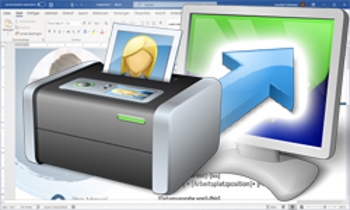 Print2Screen: It's that Easy!
Your info terminal lives from the content you provide for your customers. Thanks to the ingenious Print2Screen function by FrontFace, creating content has never been easier! With just one click, you can create content for your terminal from ALL Windows applications that have a print function. It doesn't matter if it's from Word, PowerPoint, Excel or whatever, you can transfer your own content directly and with no adjustments at all. Of course, that also works for already existing material like PDF fliers or catalogs, for example. Thus, with Print2Screen you save yourself a lot of work and can provide your content to customers in a jiffy.
It's easy! Give it a try today! - Here is how to get started:
For any questions related to our products (also regarding sales and pricing), please contact our support representatives who are ready to help you.
Just contact us or send us an e-mail!