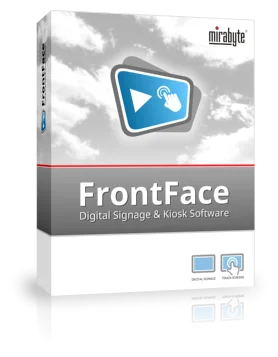 Displaying the latest, up-to-date information is critical when it comes to news bulletins, schedules, substitution schedules, timetables, room allocation plans, announcements or course plans for schools, universities, educational institutions or for company employees: The possibilities of a TV or flat screen in the foyer used as a digital billboard, bulletin board or notice board are infinite! A screen catches much more attention than traditional, paper-based bulletin boards; it looks more professional and it can be easily updated remotely. That's where digitalization makes totally sense!
But the most critical factor for a successful digital billboard is a powerful but easy-to-use infoscreen software which reliably controls your screen(s). The Digital Signage Software FrontFace is the perfect choice if you want to set up a digital blackboard: The bulletin board software allows you to individually split and design the screen contents according to your custom requirements!
Thanks to the unique Print2Screen feature of FrontFace you can create content for your digital billboard with any Windows application that supports printing – this includes vertical applications such as timetable and room allocation management programs, but also standard software like Microsoft Word, Excel or PowerPoint! By using Print2Screen you do not have to implement complex and unreliable interface bridges between different applications – instead simply print what you want to see on the billboard. However, you can also integrate any existing PDF documents (even multi-page documents) into your playlists as well as other content like pictures, photos, videos, video streams and even entire HTML-based Web pages!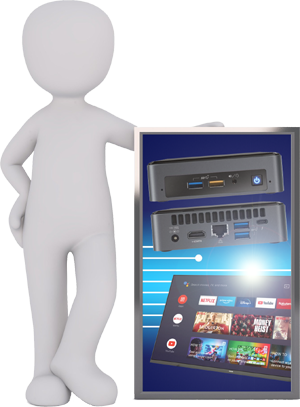 Keep it simple & cost effective: Compatible with standard hardware!
You can install FrontFace on any normal Windows PC (running Windows 10 or 11), e.g. a mini PC, and use it with any flat screen, TV screen or TFT monitor as the info screen. Alternatively, FrontFace also runs on Android devices such as Android-TV screens. So, there is no need for proprietary and expensive hardware. The setup requires no server and no modification of the configuration of your firewall. Installing FrontFace can be done in less than 15 minutes!
The
perfect software

to turn any PC connected to a flat screen into a digital billboard or information screen:
Integrate any Kind of Content!
The FrontFace infoscreen software can display any kind of media format, no matter whether you want to display text, pictures, photos, PDFs, videos, news tickers, live TV or even entire Web pages (HTML5). A free weather widget for displaying the current weather conditions plus a 3-day forecast is also included! But the best news is that you can use any Windows application that is capable of printing for producing high quality HD content for your display. Use PowerPoint, Word, Excel, etc., or your timetable management software to instantly create content for your playlists. Stick to the tools you are using without having to invest in learning how to use a new, complex design application!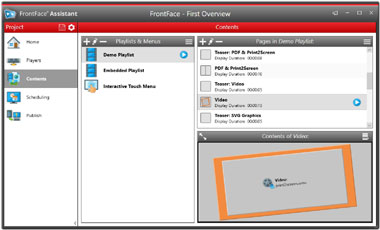 Convenient Content Management
Controlling display content is super-easy with FrontFace. The software comes with an application called FrontFace Assistant which you can install on any Windows PC. It allows you to compose and control content and playlists for your display(s). You can use schedules for running time-controlled playlists, hook up to event sources for event-based playing or display ad hoc content manually! The intuitive FrontFace Assistant is so easy that even untrained users can work with it hassle-free. Screens are updated instantly while the software is running by using a local network connection, the Internet or a USB flash drive (for offline updates).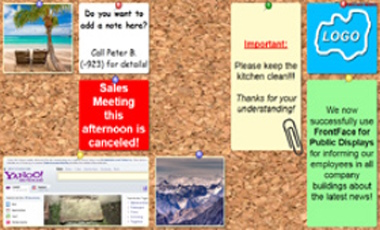 Interactive Features? No Problem!
Do you want to add interactive features to your digital billboard? E.g. you can allow a user to request certain information or content directly by interacting with the virtual pin board. It is possible to use touch screens or any type of external (ruggedized) input devices such as keyboard, keypads, special hardware buttons or even RFID readers. With RFID (radio frequency identification) you can make personalized information available by identifying users with their personal transponder key fob or ID card and use your screen as an employee information system. When there is no interaction with the screen a predefined playlist can be shown.
Need more? FrontFace can adapt to your individual requirements!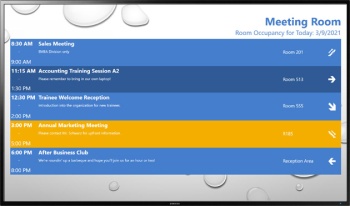 FrontFace is a universal digital signage software that can easily be enhanced and extended. E.g. you can integrate external, "live" calendar data into your information screens and digital bulletin boards. No matter whether you require room occupancy plans or schedules for events - this is all possible with plugins for FrontFace which let the software cover even more, specialized use cases. With plugins you can even add unique custom functionality to the software where other solutions would require expensive customization or even fail to fulfill your requirements at all. There are plugins available for integrating external calendars (e.g. Exchange server) or external data sources (e.g. Business Intelligence figures or production data) that can then be visualized on custom dashboards.
It's easy! Give it a try today! - Here is how to get started:
For any questions related to our products (also regarding sales and pricing), please contact our support representatives who are ready to help you.
Just contact us or send us an e-mail!