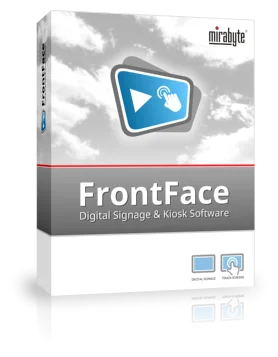 Present your foods, daily specials, menus, prices, offers and content together with general information and your advertisements. Large flat-screen monitors ("digital signage") create enormous digital infotainment possibilities for the food service industry and they are currently so simple and cost-effectively feasible that virtually anyone can take advantage of this extremely effective medium!
All you need besides a screen is a conventional PC or Android device and the FrontFace professional digital signage software that helps you to arrange content just the way you want it and to play it back automatically and time-controlled. Thus, you can professionally implement your own modern digital signage solution very simply, inexpensively, flexibly and with no prior technical knowledge!
Can be used everywhere: You can run the FrontFace software on any Windows or Android device (version 7.1 or higher) connected to any flat screen, TV or display! Screens with integrated Android TV are also supported - particularly perfect for budget-sensitive solutions!
Say good-bye to your antiquated, analog shop signs and digitize your store for long-term cost savings and increased flexibility! Update your offers and daily specials very simply at any time and respond flexibly to price changes, new food offers and legal requirements. Create your playlist using your own already existing templates (as PDF files, for example, with Word or PowerPoint) simply by using the ingenious Print2Screen feature of the FrontFace software. You can use it to easily bring the content of any Windows application that supports printing to your screens!
Increase your sales with additional information about the products, their origin and their ingredients, advice about allergens and appealing images. In addition, optionally display the current time, the local weather and your home page.
Create Your Own, Professional
Digital Menu Board

System with Ease:
Display Media of any Format!
FrontFace can display any kind of media format — no matter whether you want to display text, pictures, photos, PDFs, videos, news tickers, live TV, or even entire Web pages (HTML5). A free weather widget for displaying the current weather conditions plus a 3-day forecast is also included. But the best feature is that you can use any Windows application that is capable of printing for producing high quality HD content for your display. Use applications like PowerPoint, Word or Excel to create content for your playlists. Stick to the tools you are used to without having to invest in learning how to use a new, complex design application!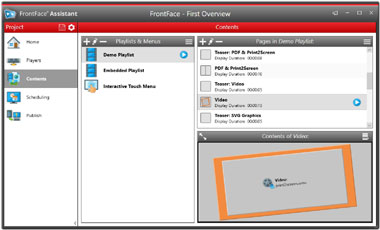 Convenient Content Management
Controlling display content is super-easy with FrontFace. The software comes with a special application called FrontFace Assistant which you can install on any Windows PC. It allows composing and controlling content and playlists for your display(s). You can use schedules for running time-controlled playlists or you can display ad hoc content! Working with the intuitive FrontFace Assistant is so easy that even untrained users can work with it hassle-free. Screens can be updated instantly while the software is running either using a local network connection (online) or a USB flash drive (offline update).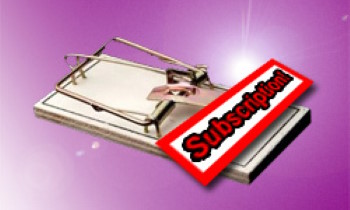 No Subscriptions!
Subscriptions that run for 5 years and longer for a digital menu board software and high costs for integrating individual content? Yes, that is quite common (sadly!) but not when using FrontFace! This software does not incur any recurring costs and you alone decide which content you want to show in your playlists. Additionally, you get a full year of free e-mail support in case you need any help. Mounting a flat screen on the wall and hooking up a standard PC to it is no real challenge and does not cost very much. But finding a good digital signage software product is the critical part — however you have just found the ideal solution: FrontFace!
It's easy! Give it a try today! - Here is how to get started:
For any questions related to our products (also regarding sales and pricing), please contact our support representatives who are ready to help you.
Just contact us or send us an e-mail!