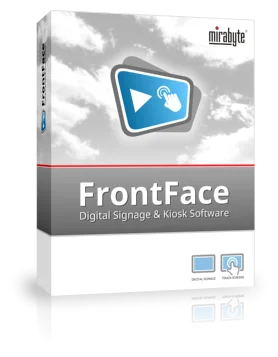 Gain efficiency and professionalism through the use of digital technology to communicate with patients, visitors, and employees! There is a great need for information in hospitals, clinics, and nursing facilities: where can a certain department be found? What requires particular attention (e.g. behavior or safety instructions)? What selections are served in the cafeteria (hospitality)? What kind of events take place in the facility, and when and where? - Many of these questions can be answered efficiently with the help of digital screens, or optionally also with interaction (touchscreens).
With FrontFace you have unique software available, by which you can implement such applications professionally and easily, without requiring complex installations or programming knowledge. FrontFace enables IT departments or external integrators to implement high quality digital signage and kiosk applications for hospitals and nursing homes easily, quickly and with a reasonable budget.
FrontFace relies on standard hardware that is easy and inexpensive to procure: any monitor or TV can be used for its operation, to which only a Windows-based PC (e.g. a mini PC) has to be connected. No proprietary hardware is required and the entire installation is done locally. The FrontFace software can function completely offline, i.e. without internet access it can operate locally in your protected IT infrastructure. This means that even the highest security and data protection requirements can be met.
Stay flexible: You can use FrontFace FrontFace on any Windows PC or Android device/TV and simply connect it to any monitor, TV, or touchscreen! Using this software does not incur any running costs and you alone decide on the content to be displayed!
The
best software

for digital screens in hospitals, clinics, and nursing homes: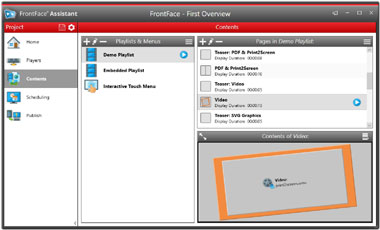 Convenient Content Management
Controlling display content is super easy with FrontFace. The software comes with a special application called FrontFace Assistant, which you can install on any Windows PC. It allows composing and controlling content for your display(s). You can use schedules for running time-controlled content or display ad hoc content! Working with the intuitive FrontFace Assistant is so easy that even untrained users can work with it hassle free. Screens can be updated instantly while the software is running by either using a local network connection (online) or a USB flash drive (offline update).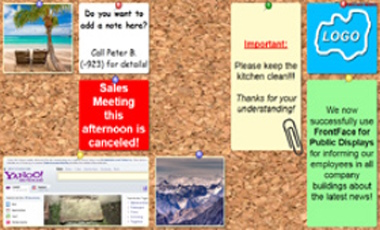 Employee Information System
With FrontFace you can not only keep patients and visitors up to dat, you can use it just as easily to implement an employee information system for internal communication. In its simplest form, you can create a contemporary, digital replacement for the bulletin board or directly add an interactive touch screen solution. Regardless of whether displaying duty rosters, important employee information or general news - with FrontFace you also keep nurses and doctors up to date!
Ideal for Senior Citizen and Nursing Homes
Especially for retirement homes and nursing homes, digital screens in the entrance area or in community rooms offer many options and help to simplify the day-to-day work of the staff. Through centralizing information for residents and visitors, e.g. with regard to activities taking place, meal plans or current news and information about the weather, you create a popular and interesting point of contact that also helps to relieve employees. But other enhancements are possible with interactive entertainment, for example, with the Quiz Plug-In for FrontFace or by personalized, automatic birthday greetings for residents.
New:

Use your digital information screeens also as a call-up system!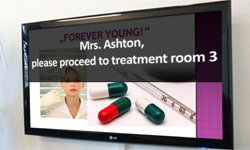 Our software can easily be extended by using so called "plug-ins." The "Remote Control Plugin" allows you to use your screens also as a flexible call-up system for patients in waiting areas. For this purpose, a small Windows app is installed on PCs of your choice that can send (fresh or pre-canned) text messages directly to the waiting room screen, e.g. "Mrs. Ashton, please proceed to treatment room 3!" These messages then appear on the screen and can also be highlighted using a custom sound, e.g. a bell.
It's easy! Give it a try today! - Here is how to get started:
For any questions related to our products (also regarding sales and pricing), please contact our support representatives who are ready to help you.
Just contact us or send us an e-mail!