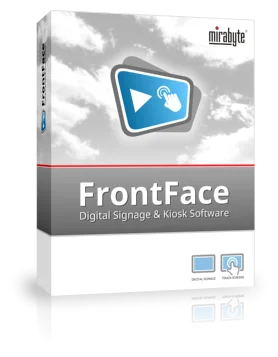 Video walls are the perfect choice for displaying impressive multimedia content on extremely large screens. Even though the technology is proven and is getting less expensive, finding a reliable way to provide custom multimedia content on these video walls is still problematic. Most vendors of video wall hardware include special software applications to display content on the video walls, but these applications are often not suitable for professional use or are very limited in regards to functionality and lack flexibility.
With FrontFace you get a powerful yet easy-to-use and easy-to-install digital signage software that can be used to control and manage any kind of video wall installations without a hassle!
Use Cases and Applications for Video Walls:
Out of Home Advertising:


For most digital out of home (DOOH) applications it is vital to have weatherproof screens. Therefore, there is often no real alternative to LED matrix screens which have the advantage that they can also be used at night as well.

Control Panels and Master Control Stations:


No matter whether in industrial plants, situation rooms or master control rooms — a video wall is the best way to show various important information sources simultaneously to everyone who is involved.

Large Format Screens for Trade Fairs:


Size matters! And in case the size of common LFS (large format screens) is not enough, both LED mesh video walls as well as multi-screen walls are a very economical way to set up even larger screens.

Large Scale Advertising Screens:


In shopping malls or in retail stores large screens at the POS are perfect to catch the customers' attention. Video walls have proven to be a very important marketing instrument in thse locations.
LED Matrix Video Wall: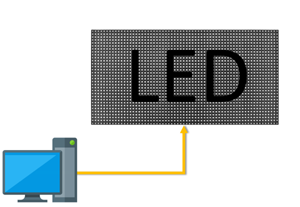 This type of video wall consists of a matrix of LEDs (light emitting diodes) that can light up in red, green, blue or a mixture of these colors. By looking at the matrix from a certain distance, the colored LEDs make up a picture. Usually LED walls are used for very large installations where traditional flat screens cannot be used. Often LED walls are also used for outdoor scenarios where temperature or humidity prevent the use of normal TFT screens.
LED video walls use a special LED video wall controller hardware to connect to a normal PC. In most cases, the "screen capturing" method is used to show content from the PC on the video wall. A special software application is configured to "capture" an area from the PC's screen which is then cloned onto the video wall. Video walls that support a high updating frame rate can even display video content and smooth animations using this method.
Controlling LED Matrix Video Walls with FrontFace:
The main advantage is that the FrontFace Player Application can not only be used in full screen mode but also supports the so-called "windowed mode." You can define the location, size and scaling factor of the player window upon application startup to place the window automatically at the correct position on the PC's desktop so that the video wall driver software can capture the content directly and display it on the video wall. With this setup you can use the full set of features of the FrontFace software to display reliably any kind of content on your video wall — including videos, Web pages, news tickers, pictures and even specialized plugins (e.g. to show schedules or dashboards with live data).
Multi-Screen Video Wall: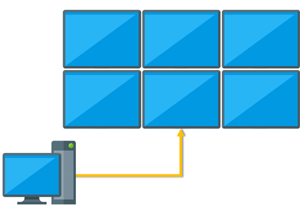 This type of video wall consists of a number of normal screens that are arranged in a way to make up one very large format display (LFD). Typically, so called "low bezel" or "no bezel" screens are used for this in order to minimize the border (bezel) that separates the screens from each other. These video walls are either addressed using a special controller device or by a multi-head graphics adapter (from vendors such as Matrox, ATI/Radeon (Eyefininty), nVidia or intel) that has the appropriate number of video output ports. On the software side, a special driver is used to stitch the screens together into one large virtual screen that can then be addressed transparently by the PC to which the screens are connected. So, from the perspective of the controller PC, the video wall appears as a single very large screen.
Controlling multi-screen video walls with FrontFace:
FrontFace is capable of addressing multiple screens either with different or the same content, but in order to get the best results, it is recommended to address the video wall as one large screen. If you want to be able to address the screens separately or only a subset of the screens with your content, you can use a page layout in the FrontFace software that partitions the virtual screen into segments that resemble the individual screens of the video wall. With this approach you can address the wall as a whole or each screen separately which gives you maximum flexibility!
Case Study: ABUS Security World
Download our free PDF case study and learn how ABUS implemented a professional video wall with 6 full HD screen segments using FrontFace to display both general marketing content as well as up to 6 HD camera streams at once for demonstrating ABUS IP surveillance cameras.

Download PDF
Special Hardware for Video Walls: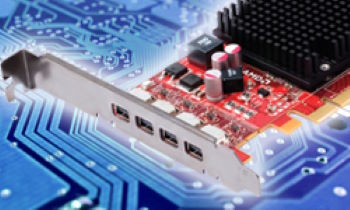 Multi-Head Graphics Adapters
Special graphics cards from vendors such as Matrox, ATI and others allow attaching multiple screens to a single PC. These special graphics adapters also include driver software that allows an operator to set up different screen configurations and to stitch multiple screens together into one very large screen.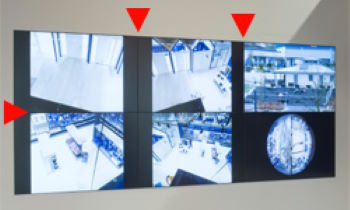 Low Bezel Screens
In order to prevent visual distortion of multi-screen video walls, the use of low-bezel or no-bezel screens is highly recommended. When looking at a video wall with low bezel screens, the bezels almost disappear and the illusion of one single large screen is very effective!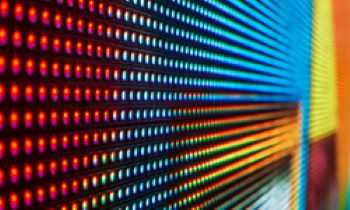 LED Video Wall Controllers
LED matrix video walls come with special controller devices that are used to connect the video wall to a PC. The included driver software lets you capture a certain area of the PC's screen and then replicates this onto the video wall.
It's easy! Give it a try today! - Here is how to get started:
For any questions related to our products (also regarding sales and pricing), please contact our support representatives who are ready to help you.
Just contact us or send us an e-mail!