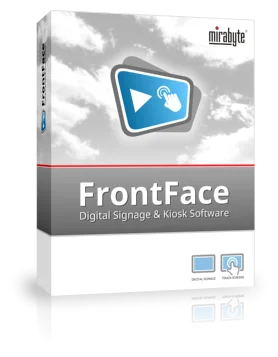 Training schedules, room occupancy schedules, course plans, general information or advertising: The possibilities for digital signage and infotainment in fitness clubs and gyms are endless! Because the required hardware (flat screens) has become so inexpensive, any sports club can now afford to use this highly efficient method of informing and attracting customers!
Apart from a flat screen or TV, you only need a basic PC and the digital signage software product FrontFace to enable you to easily arrange and compose your content on the screen and to display your auto-scheduled playlists. Therefore setting up your own, professional digital signage solution in your gym without any previous, technical knowledge and without spending thousands of dollars is now easier than ever!
Provide the members of your sports club with more than just plain TV channels or DVD playback: Create individual, highly personalized playlists with custom multimedia content that directly addresses your members! Provide information about courses, training schedules or special offers. Advertise available services like wellness programs, sauna, spa or special events along with motivating success stories from other club members!
You can also add price lists and advertising for complementary products which you offer such as fitness drinks, power food, clothing or gift coupons.
Compatible with standard PC hardware: You can easily install FrontFace on basic Windows PCs (Windows 10 or 11) or Android device/TV and use it with any flat screen, TV or TFT / plasma monitor!
The FrontFace difference: In contrast to other digital signage solutions, FrontFace is offered via a perpetual license model, which means that you have no recurring costs and the license is valid forever. So you remain entirely independent and do not rely on servers or services provided by the software vendor (as distinct from SaaS products). In addition, you have full control over your content; you can decide what you want to show on your screens — there are no presets which you have to use and there is no mandatory advertising that you have to show!
Turn a PC with a flat screen into a
professional digital signage infotainment system for your gym

:
More than just TV/DVD playback!
Beyond text, pictures and animations, you can also very easily integrate any videos into your playlists. Thanks to the built-in scheduling, it is even possible to run certain instructional videos at a given point in time to allow members of your fitness club to complete courses even without a human trainer. Of course you can also integrate normal live TV channels, either in combination with your own content or with other automatically updated content such as a weather forecast or the latest news and sports headlines. You can also integrate your own custom news headlines into a scrolling ticker tape or integrate custom, external data sources such as the departure times of public transportation services in your area.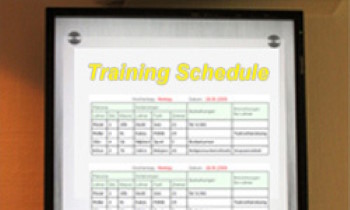 Display Media of any Format!
FrontFace can display any kind of media format — no matter whether you want to display text, pictures, photos, PDFs, videos, news tickers, live TV or even entire Web pages (HTML5). A free weather widget for displaying the current weather conditions plus a 3-day forecast is also included. But the best feature is that you can use any Windows application that is capable of printing for producing high quality HD content for your display. Use applications like PowerPoint, Word, Excel, or your timetable management software to create content for your playlists. Stick to the tools you are used to without having to invest in learning how to use a new, complex design application!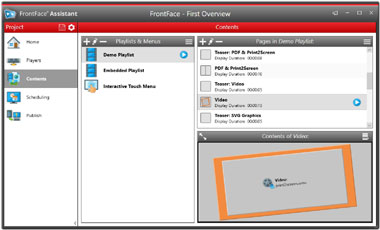 Convenient Content Management
Controlling display content is super-easy with FrontFace. The software comes with a special application called FrontFace Assistant which you can install on any Windows PC. It allows for composing and controlling content and playlists for your display(s). You can use schedules for running time-controlled playlists or for displaying ad hoc content! Working with the intuitive FrontFace Assistant is so easy that even untrained users can work with it hassle-free. Screens can be updated instantly while the software is running either using a local network connection (online) or a USB flash drive (offline update).
It's easy! Give it a try today! - Here is how to get started:
For any questions related to our products (also regarding sales and pricing), please contact our support representatives who are ready to help you.
Just contact us or send us an e-mail!