Interactive touch screen terminals are modern technology made for the multimedia preparation of information and content in museums, making it graspable in the most literal sense. Conventional, printed signs and posters only offer a limited amount of space for texts and pictures, but the shape and number of media that can be displayed on a touch screen terminal with audio and visuals is virtually unlimited!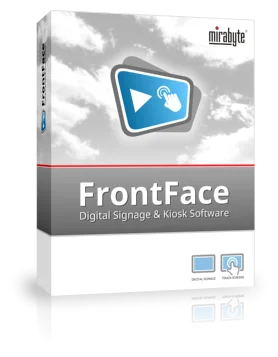 FrontFace offers you an inexpensive software solution to convert any normal Windows-operated PC into a professional multimedia presentation system for use in museums. Our efficient software guarantees a highly intuitive use and allows you to use existing content out-of-the-box on your media station. The included "FrontFace Assistant" software helps you create the graphic user interface and allows easy design of interactive elements - without any programming skills!
You can also use the software for media control and presentation: E.g. you can combine a multi-touch terminal with a projector or jumbo screen to show content appropriately, even to large visitor groups or school classes. Integrate available building management systems and room control to allow for additional, fascinating light and sound effects when interacting with the terminal and excite your visitors' curiosity about exhibits in your museum! Please do not hesitate to contact us with any questions about further options of integration and use of FrontFace.
Use it everywhere:
You can use
FrontFace
on every Windows-operated computer (Windows 10 or 11) and run it on a projector or any flat screen of your choice, either with or without touch functions.
The
Perfect Software

for Touch Screen Solutions in Museums and Exhibitions: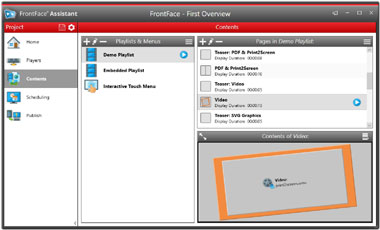 Get started instantly!
Creating an user interface is child's play: our FrontFace Assistant is easy-to-use software that enables you to configure your system in very few steps. First select a design (theme), then customize aspects such as number, color, icons and text of buttons. Next, import the content and/or media to be displayed upon interaction with individual buttons. Use the preview function to check the final result at any time during this process before you finally save your new interface and proceed to use it on your kiosk terminal.
Support for all media and formats!
FrontFace enables you to use all data, content and media available on your system immediately, be it pictures, videos, PDF files, XPS files or even Websites. FrontFace's unique Print2Screen function allows you to create suitable content from every Windows application containing a print option. This means you will not have to eschew your usual authoring tools. Even executables like applications and batch commands can be linked as actions for a button with a few clicks, offering still more options of use. You can even create an individual, digital exhibit with FrontFace!
Automatic and secure!
FrontFace also contains the FrontFace Lockdown Tool that allows you conveniently configure the Windows PC for 24/7 use as interactive kiosk terminal and ensures secure use free of problems. FrontFace is launched automatically upon start-up. Typical Windows functions such as "Switch user" and "Lock computer" are be disabled to prevent users from accidentally shutting down or even damaging the system.
Versatile: Use as Interactive Kiosk Terminal, Media Control System or Digital Exhibit!
FrontFace gives you the opportunity to create an interactive kiosk terminal from a touch screen monitor and a usual Windows PC and to interactively convey the fascination of your exhibits to your visitors.
Encourage the generations of mobile phones and tablets to visit a museum by promoting the enjoyment of playing and learning. Children and adolescents explore more when their attention has been caught by a picture or a video, and when knowledge is imparted in a playful fashion. FrontFace can not only be implemented in museums and exhibitions, it is also being used regularly at fair stalls and for public self-service terminals.
Also supports Inexpensive Standard Hardware like All-in-One PCs and Tablets!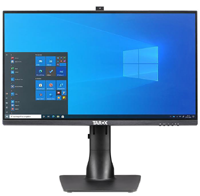 If you are still looking for the right hardware and need an inexpensive solution, so-called all in one touch screen computers (AIO) can be a good choice. But also a Windows-based tablet PCs can be an option if a simple, cost-efficient and easy-to-install solution is needed!
It's easy! Give it a try today! - Here is how to get started:
For any questions related to our products (also regarding sales and pricing), please contact our support representatives who are ready to help you.
Just contact us or send us an e-mail!